Smart Building
One Coupler—Many Different Ways to Use It
03.26.2020
How do you know when you've found a superior solution? When a product–or family of products–helps fulfill multiple needs.
How often do you consider versatility to be an important factor when you're seeking cable and connectivity solutions?
Ask yourself these questions: How does the product work? What can it do? How can it be installed? Where can it be installed? A versatile product that fulfills a variety of needs can save you time and money.
REVConnect® Couplers are a great example of flexibility in action. They provide the best controlled electrical performance possible (with zero crosstalk, they're nearly "invisible" in terms of impact on the channel)–as well as offering great reliability and flexibility.
Here are some of the many ways REVConnect Couplers can be used.
Consolidation Points
Thanks to the Internet of Things (IoT) and growing numbers of network-connected devices, zone cabling is gaining in popularity.
Consolidation points make zone cabling more practical, acting as a point of connection between horizontal cables extending from building pathways and horizontal cables extending into furniture pathways. They also serve as interconnection points for equipment outlets.
The REVConnect Coupler fits into standard panels and simplifies logistics by using horizontal cable instead of pigtails or plug-to-jack assemblies. From the back of the panel, the REVConnect Core connects the telecommunications room to the consolidation point. From the front of the panel, you can connect an equipment outlet and use the REVConnect termination method.
The REVConnect Coupler also simplifies installations with pre-defined cable lengths: For example, if you know that one wireless access point will be installed every 20 feet down a hallway, you can create consolidation points using pigtails or pre-terminated assemblies. From there, you can use a REVConnect Coupler Patch Panel, connect the core and then connect your cable directly to your equipment. This approach is more cost effective than a jack-to-jack or jack-to-plug assembly. The REVConnect Coupler can be used in any panel within a consolidation point application.
Wall-Mount Cross Connects
Because of where the switches are located, cross connects haven't always been viewed as a data solution as much as they've been used voice applications. With the advent of IoT, rack space at a premium and wall space being used by many equipment vendors, however, cross connects should be viewed as a data solution.
With the decentralization of data transmission equipment, topologies changed. It's now easier to bring equipment closer to the user port, which is terminated in the telecommunications room. With an increasing number of ports needed to support new services, it's a good time to consider wall-mount cross connects to save valuable floor space in your telecommunications room. They can also be used as an interconnection point (if someone were to use the wall in a brownfield space to compensate for minimal rack space, for example).
REVConnect Couplers pair well with wall-mount cross-connect applications to achieve space savings. They streamline and speed up termination by using one method for all components: couplers, cross-connect cords, jacks and plugs. They also maintain tidy cross-connect fields after moves, adds and changes (MACs), as well as support higher termination density.
As a core-to-core connector, the REVConnect Coupler is surrounded by cable dressing and patch cable management accessories. When used in a cut-to-length fashion, the coupler–combined with Belden's REVConnect 10GX Wall-Mount System–provides installed savings and reduces operating costs.


A wall-mount cross connect could be used with cut-to-length cords, fully utilizing the benefits of REVConnect Couplers.
Transition from OSP to CMR/CMP Cable
In indoor/outdoor applications, the REVConnect Coupler serves as a cost-effective transition point.
For example: If you run outside plant (OSP) cable to equipment on the roof or exterior wall, you no longer have to invest in indoor/outdoor plenum distribution cable to make the connection. Instead, you can create a cost-effective connection by joining the OSP cable on one side to the CMR/CMP cable on the other side using a REVConnect Coupler.
The couplers can be used in standard KeyConnect hardware and, just like other REVConnect products, feature easy termination that follows the exact same process for each component.
Permanent Link Extension & Repair
One of our customers combined REVConnect Couplers and pigtails to connect wireless access points in an MPTL setup. They wanted to use a cut-to-length approach, as well as ensure that the same standard termination was used throughout the installation.

Using a REVConnect Coupler in the consolidation point and as an extension of the permanent link in an MPTL setup with a pigtail.
Another good example of using a REVConnect Coupler as part of a permanent link extension or repair: a damaged cable that cannot perform as installed/tested. Rather than installing a new cable that runs from the telecommunications room to the consolidation point or work area, you can terminate the cable with REVConnect Cores and use a REVConnect Coupler to "fix" the connection; the channel will still perform to the desired standard as long as the number of connections in the channel remains under five. Using REVConnect Couplers, you can easily use up to six connectors within one channel and still comply with performance standards.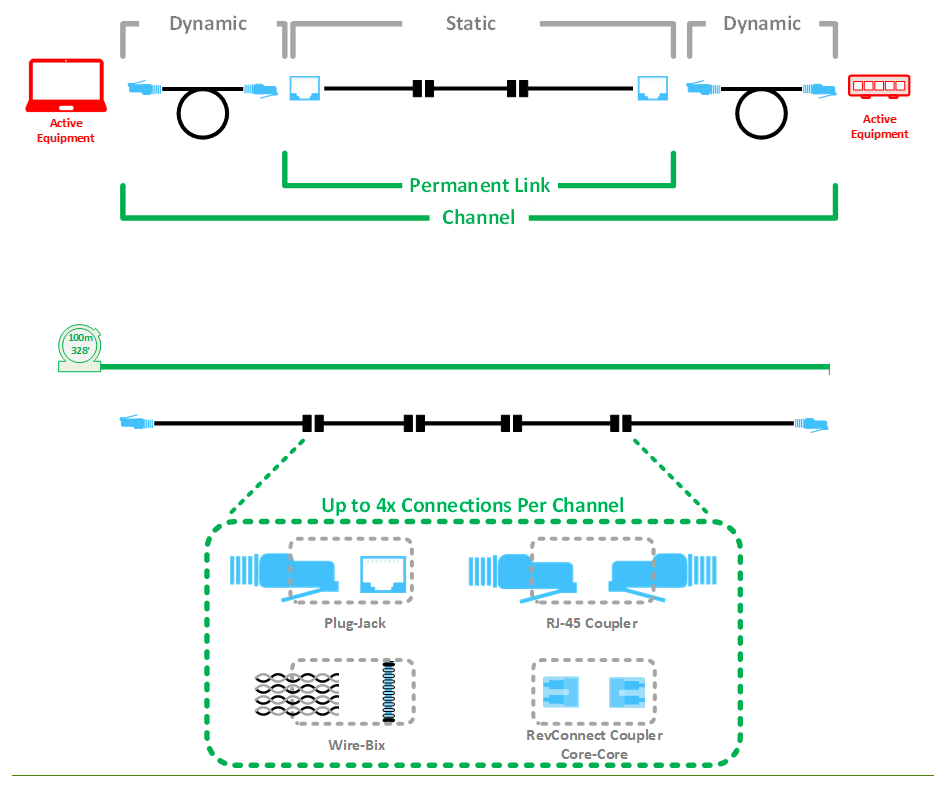 REVConnect Couplers are ideal for projects utilizing different cable lengths (long and short); you can "make your own" REVConnect FlexPlug.
Rack-Mount Interconnect or Cross-Connect
Standards dictate that a telecommunication room's patch panel–which links to networking equipment–needs to connect using RJ45 connectors.
If you don't need to touch a connection for the life of your equipment, you can create that same type of connection with a REVConnect Coupler Patch Panel, which comes fully assembled with REVConnect Couplers that are ready to terminate. This allows you to use a cut-to-length approach to connect to your equipment. It's also more cost effective than using jacks in this type of scenario and eliminates the need for slack management. It makes future moves, adds and changes easier and faster to accomplish as well.
Extended Channel Parameters
Instead of being limited by a 100 m four-connector topology, one of our customers was able to extend beyond 100 m when combining REVConnect Couplers with 10GXS Cable due to the performance levels they provide.
This gives you flexibility to modify channel parameters and exceed standards so you aren't limited in your channel architecture. For example: When using a hierarchical star topology for data centers, you'd need six mated connectors in a channel. If you deploy solutions that meet – but don't exceed – standards, that approach isn't possible. Because Belden's REVConnect Coupler exceeds standards, we make it possible.
Get to Know the REVConnect Coupler
REVConnect Couplers support the fastest Category 6A termination possible and increase density, improve flexibility and reduce costs while maintaining reliability. By helping you make use of leftover horizontal cable, REVConnect Couplers also reduce waste.
They're rated for 100W PoE applications and UL 2043 rated for plenum spaces. Bringing zero crosstalk, they add little noise to the channel and are essentially invisible. If you're looking for a connectivity solution that opens up a world of possibilities, this may be a good option for your next project!
REVConnect Coupler Diagram