Embedded Ethernet Technology
Ethernet switches embedded in end devices such as I/O, HMI, and drives can lower installed network costs, simplify network design, improve performance, and enable more flexible topologies.
Embedding intelligence is maturing



Embedded computers in automobiles, home appliances, smart phones, TV receivers, and video recorders revolutionized industries – and, indeed, life, around the globe. Trade shows capitalizing on the trend have become institutions: the Embedded Systems Conference in Silicon Valley is 24 years old and Embedded World in Nuremberg, Germany, is celebrating its 10th year.
Today, 98% of Ethernet switches are still stand-alone units. This physical separation clearly differentiates between communication tasks and application processes; nonetheless, the increasing requirements to reduce cost and save space are swinging the momentum towards embedded switching in automation components for industrial machines.
The first managed Ethernet switches that were designed as board-level systems were introduced a few years ago
These switches are designed to be integrated on the main boards of automation components. Just as embedded intelligence has become ubiquitous in the machines we use in daily life, embedded Ethernet is the way of the future for industrial applications. Machine manufacturers will be able to develop systems with smaller footprints and enhanced capability because the machines, being part of the system, will be able to "speak" Ethernet-based automation protocols such as ProfiNet, Ethernet/IP and EtherCAT.


Integrating Ethernet technology from the ground up into an automation component for a machine is no easy task. Embedded Ethernet boards fill a much-needed gap between large stand-alone Ethernet switches and switching chips, which still required significant design effort to embed into an automation component like an intelligent tool. These new embedded Ethernet switches provide almost "drop-in" Ethernet functionality and dramatically decrease the time it takes for an automation component manufacturer to migrate an in-production design into a state-of-the-art Ethernet-enabled product.
Component designers are no longer required to master a different technology (Ethernet), and can instead focus on their area of expertise. Not only do component manufacturers win from a time-to-market standpoint, but embedded Ethernet switching is considered a benefit to machine manufacturers and their customers because it reduces the footprint of a solution in facilities where space is at a premium, and it saves in cost and complexity. Lower design risks and increased perceived value to the customer make a powerful combination.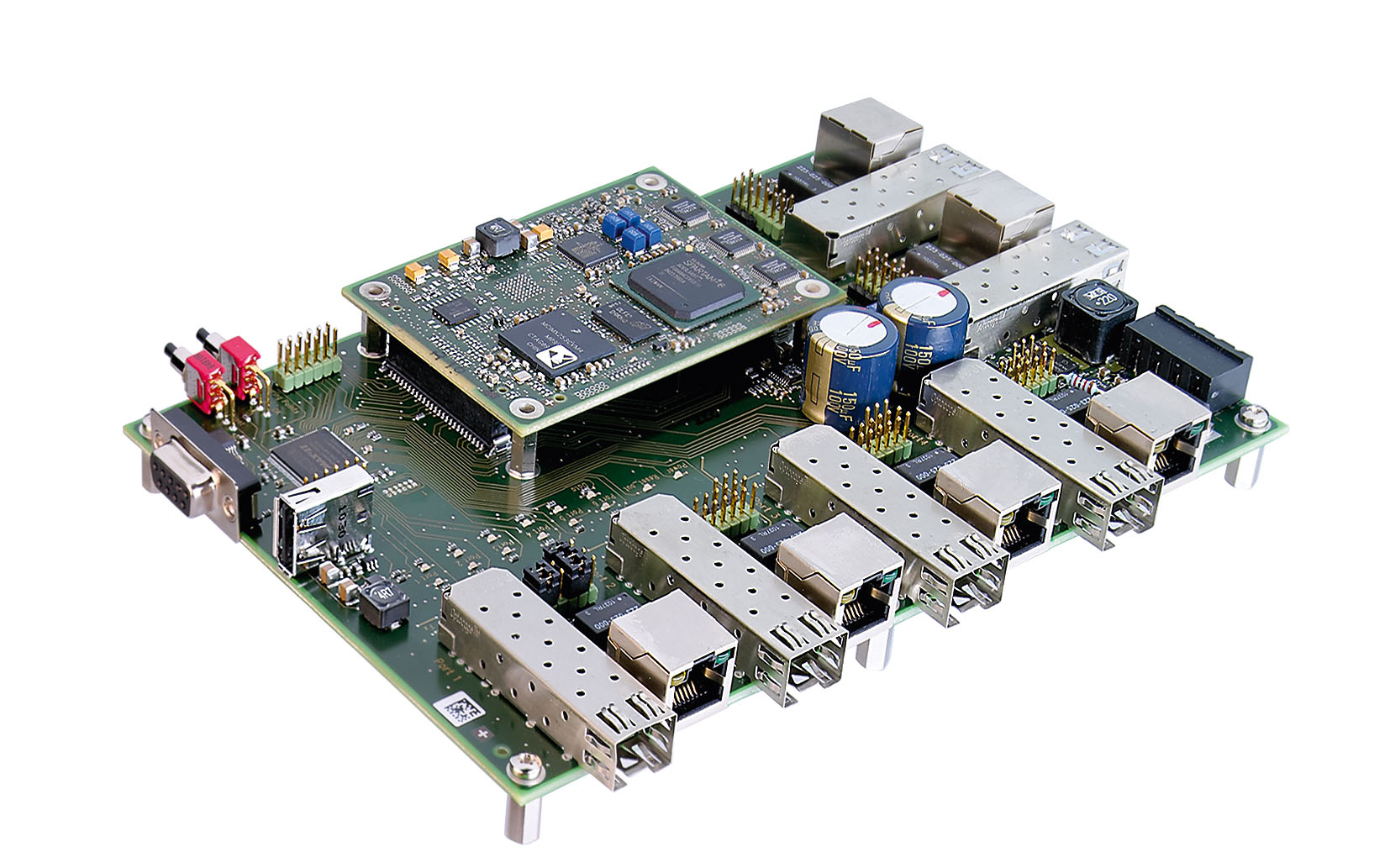 Embedded Ethernet switch (small board, top) assembled with a main board of an automation component.