Industrial Automation Solutions
Increase uptime and ensure network data availability, integrity, and confidentiality. At Belden, we understand the operational, quality, safety and innovation demands of our customers and we empower you to succeed by making the most of real-time OT data.
​
Unlock the future of manufacturing with Belden – your strategic partner for seamless connectivity and optimized efficiency.
With a 120-year legacy of expertise, we provide the insights and solutions you need to navigate today's complex, evolving landscape.
Watch our brand video above and see how Belden can empower your operations to reach new heights.
Building the Foundation for Real-Time Decisions
Belden's comprehensive portfolio of products can support your industrial network and help you transmit data securely. Our industrial automation capabilities span networking, connectivity and network security.
Our global team of engineers and consultants understand your operational issues and are focused on enabling customer outcomes and solving your biggest challenges. We offer a wide range of solutions and capabilities to design and implement secure networks that meet your organizational goals.
​
Belden Helps Achieve Operational Efficiency
PODCAST

Strategies to Scale Industry 4.0 Pilots

A Conversation with Sid and Peter on Empowering Connected Plants

Explore Industry 4.0, including the transformative potential of connected plants and the challenges of scaling pilot projects, with insights into Belden's integral role in empowering this new era of manufacturing.

VIDEO

The Digitization Imperative

Explore how digitization can enhance the human experience in this new video featuring Group VP Analyst Kevin Prouty from market intelligence firm IDC

Today's changing market and heightened business risks require companies to accelerate their digital transformation investments and ensure resilient operations. Companies need a technology provider who can build a robust, flexible, secure network and data management infrastructure to realize the full business potential of digitization.

VIDEO

Ease Workplace Shortage Challenges via HMI Mirroring

Watch presentation from Innovation Stage at PackExpo 2022

Pete Kneski and Matthew Wopata of Belden took the stage at Pack Expo to explore how companies can combat the effects that labor shortages can have on production, primarily through remote HMI mirroring.
Confidently Build the Network You Need
As the provider of the industry's most complete suite of end-to-end digitization solutions, Belden simplifies the technology landscape. We collaborate with you to design, deploy and validate tailor-made solutions that meet your unique requirements. Together, we build solutions that deliver the robust and reliable connectivity you need.
Reduce total cost of ownership and improve ROI
Increase network uptime
Prevent network breaches
Improve operational efficiency
Example of a Network Architecture for Discrete Automation
---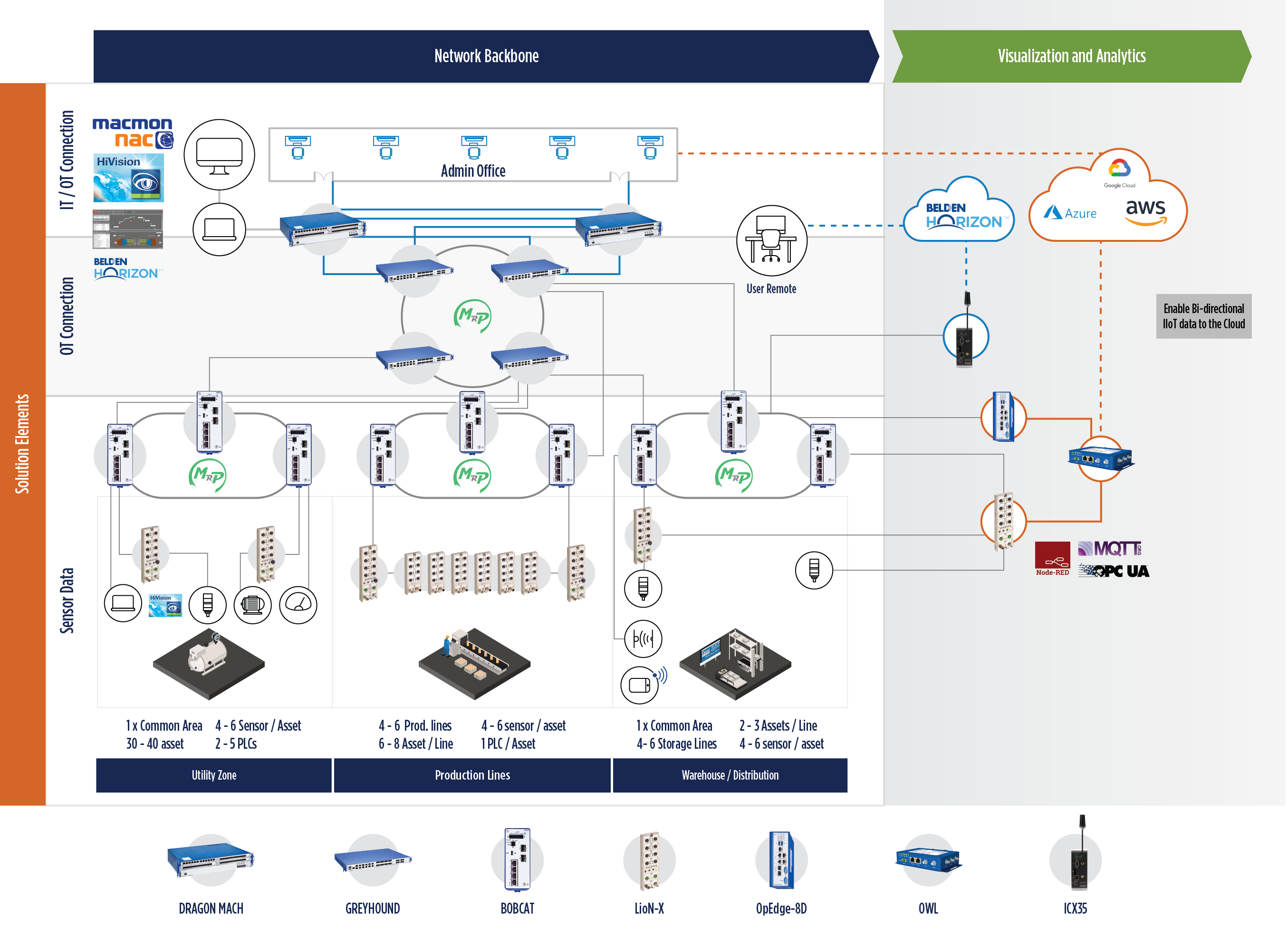 ---
The Products Supporting Industrial Automation Solutions
Belden's portfolio spans a wide range of options to ensure the best fit for your company. Our global experts will work with your team to discover and recommend products to support your organizational goals.