Fiber Optic Network Solutions
High-Performance Fiber Infrastructure Solutions for Broadcast Applications
Next-Generation Signal Routing Solutions from Belden
High-definition video, 4K and other broadcast technologies are pushing copper cabling infrastructures to the limit. Fiber optic technology combines multiple signals and channels over a single fiber, enabling broadcasters to push faster data speeds over longer distances. High-quality fiber infrastructure is the foundation required to support HD video, 4K, augmented reality streaming, big data and other emerging technologies.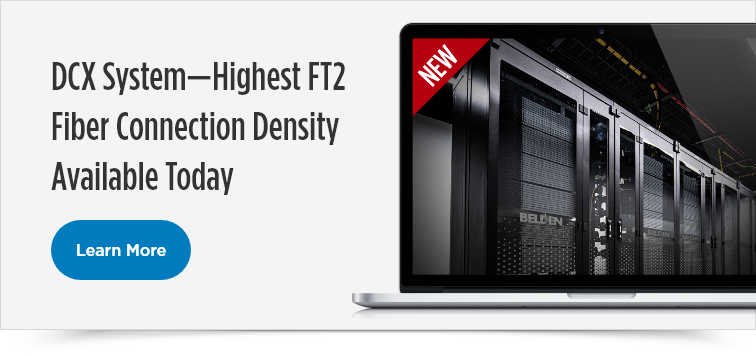 Belden's pre- and field-terminated fiber solutions are optimized to withstand the most challenging cable pulls, high tensile loading, severe crushing and repeated use—even in harsher outdoor broadcast applications.
Fiber connectors for enhanced insertion loss performance minimizing broadcast impact
Fibre1 Centre of Excellence for co-collaboration in designing custom fiber solutions to integrate with existing broadcast environments
Belden OM4 Cable, Adapters & Connector Bodies designed with optional Erika Violet color for clearer differentiation between OM3 & OM4
25-Year Fiber System product warranty & lifetime application assurance to protect your investment*
Rigorous testing beyond industry standards for all Belden fiber cabling & connectivity products guarantees performance reliability
*Protect against material defects or workmanship when installed by a Belden-certified PartnerAlliance installer.
---
Ready to Start a Project?
Products designed to work together for optimal performance & a seamless deployment workflow.
Related Products
Supporting Voice, Data & Video Communications to Meet Broadcast Demands
Fiber Optic Tools & Assemblies
BELDEN

Diversified/NBCU Boston Media Center

NBCU partners with Diversified to co-locate TV stations, cable news channels & regional sports networks under one roof. Belden cabling & connectivity provides the foundation to bring the networks together.

BELDEN

More Fiber Connections are Coming: Are you Ready?

Broadcast applications deploy more fiber than ever before to deliver always-on wired & wireless connectivity.

Explore new broadcasting technologies.